The Sustainable Future of Naval Seafaring

Creating a vision for a sustainable future naval enterprise.
The Vision
UKNEST is committed to exploring the vision for a future sustainable Naval Enterprise. This vision is not just focusing on operational fuel emissions but looking at the whole lifecycle; from well to wake and from concept to disposal of the assets. In the complex Naval environment we must work to maximise sustainability without impacting capability, but there are no easy answers.
We believe we have a global duty to adopt a leadership role in finding sustainable solutions. We also believe in the importance of climate resilience so that we are prepared for the changes and challenges that will come our way.
In order to facilitate the discussion of the transition to a sustainable future we recently held a NetZero Conference. Although a straight Net Zero target might not be the immediate target for most naval fleets the event focused on how we could move towards the target and ensure the Naval Enterprise plays its part to meet the wider governmental goals.
UKNEST Warship Net Zero Conference 2022
The UKNEST Warship Net Zero Conference 2022 was attended by more than 100 delegates representing both military and civilian aspects of warship design, construction and operation, together with associated infrastructure. They included operators, customers, ship designers, ship builders, infrastructure specialists, equipment suppliers, academics, regulatory bodies and Net Zero leaders.
We were delighted with the turnout, over 100 delegates from 50 different organisations provided a high level of participation and energy which provided us with some valuable discussion and outputs.
The core discussion points from the day were captured in a series of rich pictures as presented below.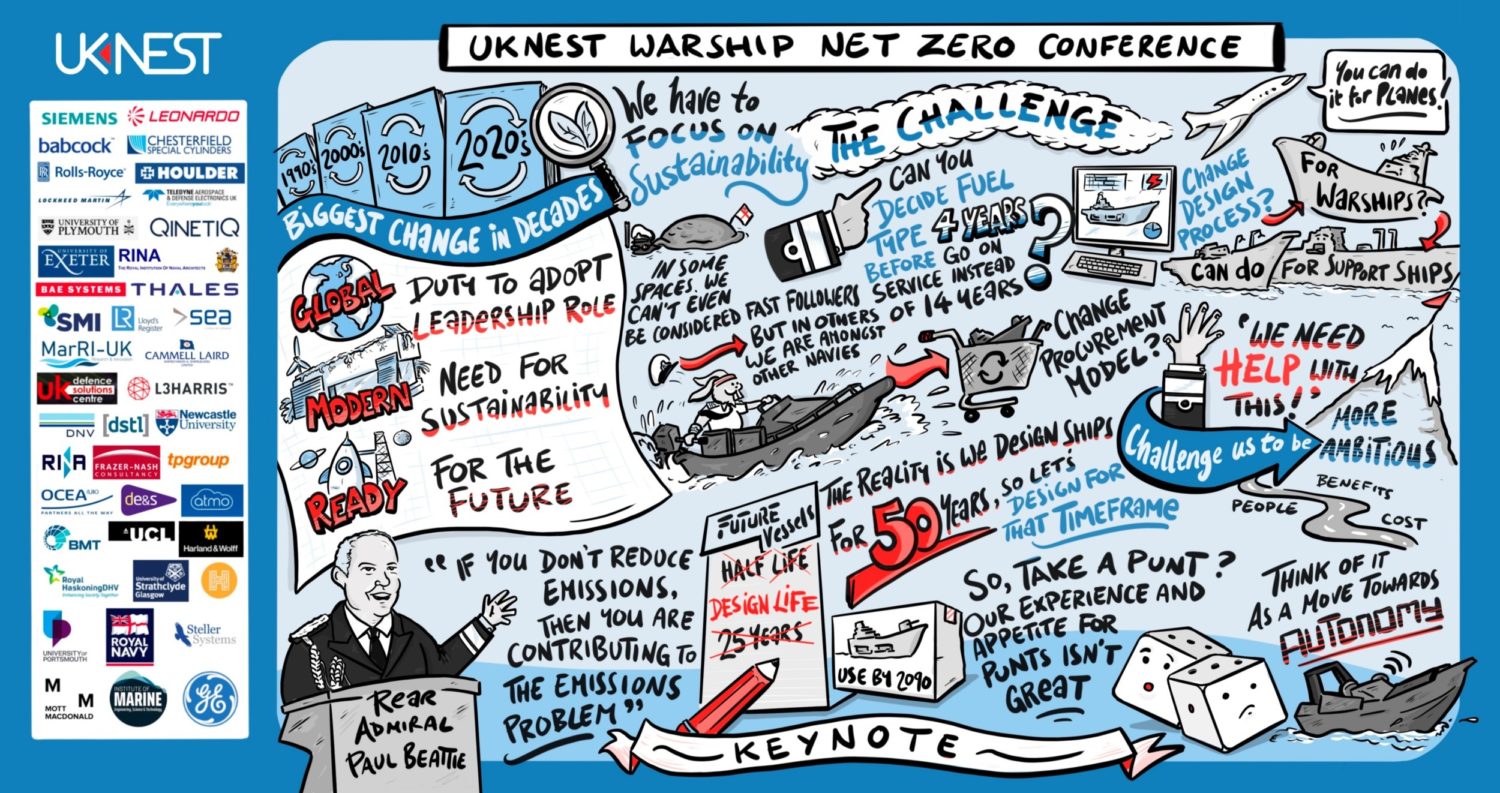 Click on the tiles below to explore the panel discussions and themes from the UKNEST Warship Net Zero Conference 2022.