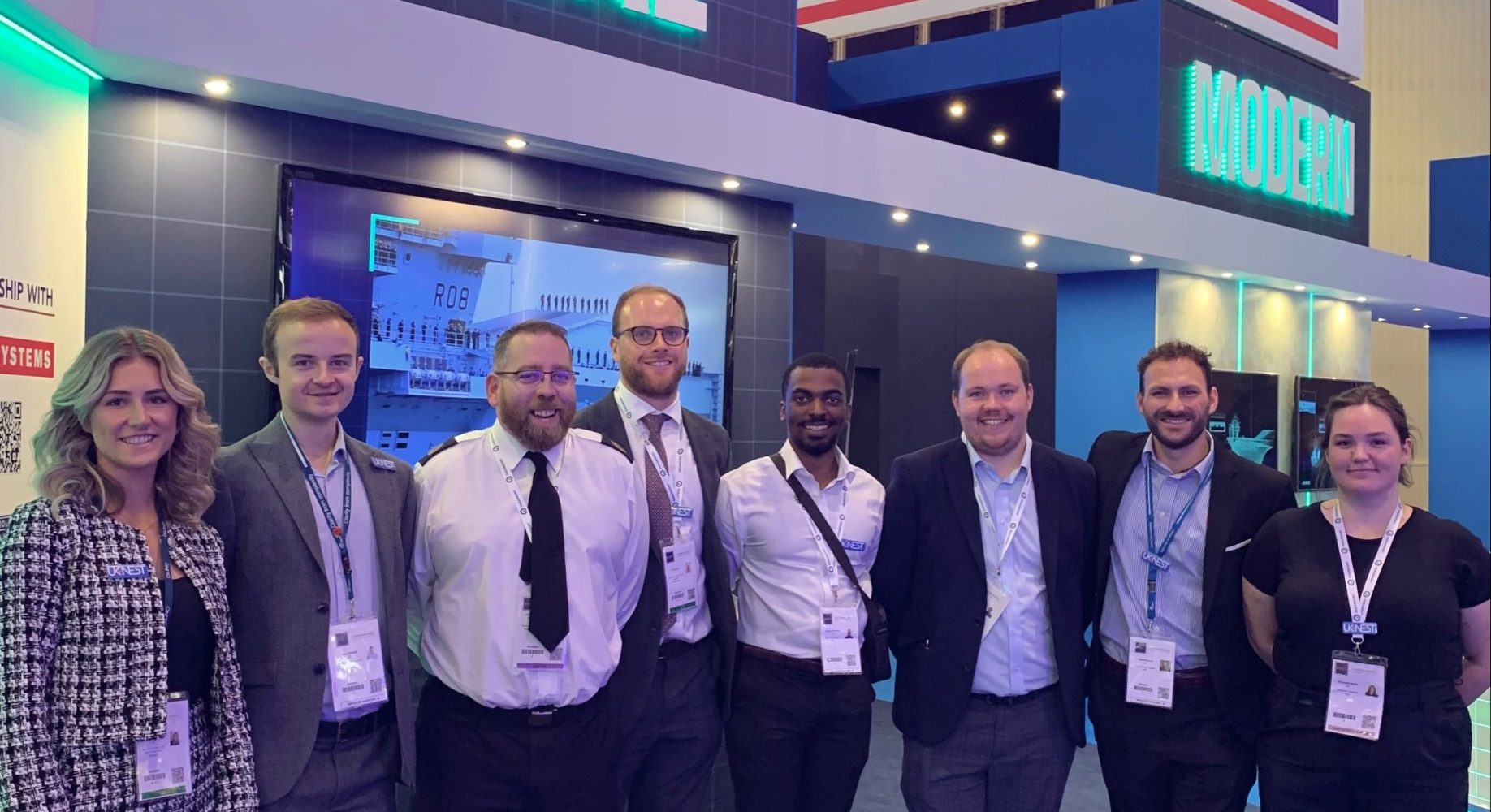 Date Posted: 26th September 2023
Project Zeus: Visioneering the future operating environment on the principles of sustainability, adaptability, and mitigation
"Visioneering" is a series of campaigns, run by UKNEST, with the aim of conceptualising a future beyond current technological and social norms, and fostering progressive ideas to confront the challenges and opportunities we may face in the coming years and decades.
FutureNEST conducts biennial Visioneering campaigns tasked directly by the Royal Navy. This year we received our briefing from Second Sea Lord Martin Connell CBE for 'Project Zeus', exploring the future naval operating environment focusing on the principles of sustainability, adaptability, and mitigation.
Our aim was to develop a series of technological concepts aligned to a sustainability theme, exploring ideas that both mitigate and adapt to naval operations in a climatically changed and low carbon future.
Over the course of our 6-month project, 12 UKNEST organisations from government, academia, and industry contributed to Project Zeus. A total of 26 participants, including apprentices, graduates, and early career professionals, of mixed gender and backgrounds, with varying levels of experience, collaborated through a series of workshops and meetings to produce our findings. Culminating in a successful final presentation at DSEI 2023, Project Zeus highlights how championing diversity within the UK maritime sector enables us to foster new ideas beyond the boundaries of existing policy as thought leaders in innovative maritime concepts.
Our project brief stated, "By 2050, sea levels will have risen changing the landscape of our Naval Bases, and those of our allies, as we know them. Temperatures will have risen causing new shipping lanes to become navigable in the high north, and extreme weather events will be more common place in remote territories. These, and other factors, create a need for the Royal Navy to generate differently and prepare to operate in the most extreme environments".
We structured the project through 4 workshops:
The Geopolitical Workshop: Why is sustainability important and how can it be achieved?
HMNB X: Investigating sustainable naval basing on contested coasts. Exploring concepts such as very large floating structures (VLFS) and seabed technology to enable Naval forces to be sustained and generated.
HMS X: The Sustainable Surface Platform. Investigating very low Technology Readiness Level (TRL) ideas to conceptualise an effective 'green' fighting platform.
The Global Energy Grid; Extreme thinking.
Initiated with a deliberately high-level brief, each topic was introduced with emphasis on the project's core principles of sustainability, adaptability, and mitigation. Discussions were held in open forum, with facilitation by FutureNEST board members and guidance through Royal Navy representatives, to generate an environment conducive to a free-flowing conversation which harnessed a blue-sky thinking approach and allowed participants to come up with some truly out-of-the-box ideas! Key features and ideas were captured and digested by the team, before collaborating with a young professional graphic designer to transform our literal ideas into thought provoking visuals. Our final concepts take an impressionistic approach towards our interpretation of what the future naval force could look like, emphasising combinations of emergent and low TRL technologies with our experience of working with tried and tested technologies. It is recognised some ideas we produced may not be feasible, however the purpose is to stimulate thought, generate conversation and spark debate, which may ultimately lead to new ideas which will confront the challenges and harness the opportunities ahead of us.
Platform
HMS MINOS – Modular Integrated Naval Operated Ship
Green fighting platform featuring modular pods providing capability for various mission specific deployments (warfighting, force level support, humanitarian aid, oceanography etc.)
Base
HMNB URANIA – United Renewable Adaptable Naval Interchangeable At sea
Modular honeycomb design base with interchangeable sections to create required operational configurations.
Energy Grid
HMS ARES – At-sea Renewable Energy Supply
Comprising of solar mirrors in space, radiation is farmed, converted, and then transmitted to a receiver at sea. Energy is stored in batteries and distributed through undersea cables to charging blocks for naval platforms or via directed beam to land for civilian use.